Owing to the screen size of your device, you may obtain a better viewing experience by rotating your device a quarter-turn (to get the so-called "panorama" screen view).
The Induction Site
Search this site, or just roll your cursor over the colored boxes below the pictures.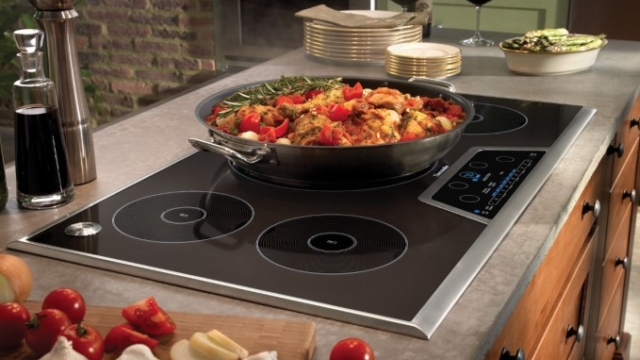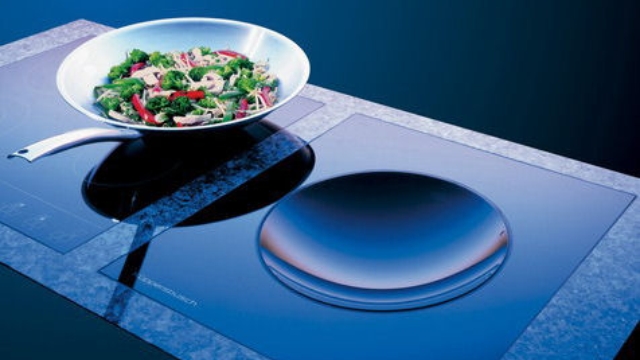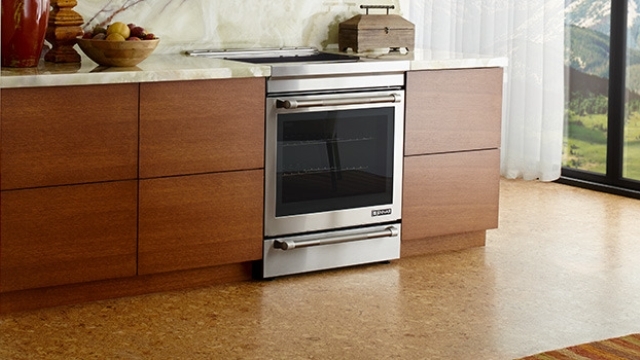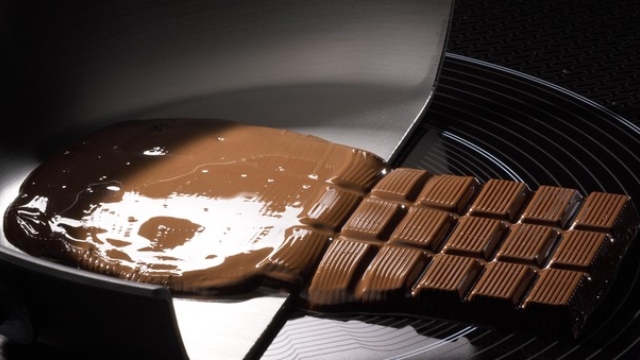 LG Induction Hobs
"Produce! Produce!
Were it but the pitifullest infintesimal fraction
of a product, produce it in God's name!
'Tis the utmost thou hast in thee: out with it, then."
—Thomas Carlyle
General LG Information
LG is a large Korean appliance manufacturer with a huge spectrum of products. They earlier had an induction cooktop, one of the very first to feature the noow increasingly common pair of "bridgeable" elements, but those were discontinued and LG was out ofd the induction market (at least in the U.S.) for a while. Now they are back with an induction-toipped range.
LG Induction-Unit Data
We found one LG induction model, an induction-topped range
As always in these listings, we give these standard general—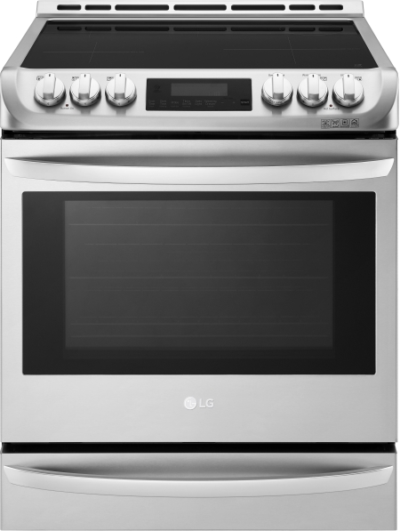 LG LSE4617ST
(maker's product page)
Elements: 4
Boosted: 4
Powers:
· 2.1 kW (boost to 3.2 kW) - front left, 8-inch diameter
· 1.3 kW (boost to 1.8 kW) - back left, 6-inch diameter
· 2.4 kW (boost to 4.0 kW) - front right, 11-inch diameter
· 1.3 kW (boost to 1.8 kW) - center back 6-inch diameter
· 100 Watts (warming-use only) - back right, 6-inch diameter
Max Power: 7.1 kW (sum of induction elements)
Levels: 9
Controls: cooktop, knobs; oven, touchpad
Timer/s: ? ("alarm-clock" type--does not control any elements)
Induction Elements Made By: LG?
Features:
· free-standing range with induction cooktop and warming drawer
· wi-fi capability
· pan detection
· safety lockout function
· residual-heat indicators
Oven: · oven interior 6.3 cubic feet:
24-13/16" wide x 21-5/16" high x 19-3/4" deep
· three-temperature warming drawer under:
22-3/16" wide x 4-1/2" high x 16-3/8" deep
· true convection oven
· 2.5 kW convection
· 4.0 kW broil
· 7 rack guides
· WideView™ oven window
· 2 racks included (1 heavy-duty, 1 gliding)
· temperature probe
· multiple cooking modes, including speed-roast
· Infrared Heating™ rapdi pre-heat
· delayed-start function
· timed-cooking function
· dough-proofing function
· safety lockout function
· temperature display in °C or °F
· convection recipe auto-conversion
· "keep-warm" function
· EasyClean® 10-minute steam self-clean for light soiling
· self-clean function for heavier soiling
Size: 29-15/16" wide x 28-15/16" deep (w/handle) x 37-3/4" high (36" to cooking surface)
Color: stainless steel (unit; cooktop is black)
Trim: stainless steel
Voltage: 240
Load: 40 Amperes
Maker's Warranty:parts & labor: 1 year
Online documents:
· Owner's Manual (PDF file)
· Warranty
Price: $$1 Moved Permanently Date: Wed, 06 Jul 2022 09:01:17 GMT Transfer-Encoding: chunked Connection: keep-alive Cache-Control: max-age=3600 Expires: Wed, 06 Jul 2022 10:01:17 GMT Location: https://www.abt.com/product/111988.html Set-Cookie: __cf_bm=2MWsoUMRLgDVTfkrNXKRxlvbtOqgPfqPpA6Cfwmmyvg-1657098077-0-AfqznRX2WjqzKaz+OeXyQiajEl6xqDhVwi4wmUcMGdT+AXzp05LiZWFxKmdl3fEStCS978ABCCEBte5zCMkOQHudUJr8PucnnlB+cgmEGvKq; path=/; expires=Wed, 06-Jul-22 09:31:17 GMT; domain=.abt.com; HttpOnly; SameSite=None Vary: Accept-Encoding Server: cloudflare CF-RAY: 726727a5ac93f18a-PIT alt-svc: h3=":443"; ma=86400, h3-29=":443"; ma=86400 HTTP/1.1 503 Service Temporarily Unavailable Date: Wed, 06 Jul 2022 09:01:17 GMT Content-Type: text/html; charset=UTF-8 Transfer-Encoding: chunked Connection: close X-Frame-Options: SAMEORIGIN Permissions-Policy: accelerometer=(),autoplay=(),camera=(),clipboard-read=(),clipboard-write=(),fullscreen=(),geolocation=(),gyroscope=(),hid=(),interest-cohort=(),magnetometer=(),microphone=(),payment=(),publickey-credentials-get=(),screen-wake-lock=(),serial=(),sync-xhr=(),usb=() Cache-Control: private, max-age=0, no-store, no-cache, must-revalidate, post-check=0, pre-check=0 Expires: Thu, 01 Jan 1970 00:00:01 GMT Expect-CT: max-age=604800, report-uri="https://report-uri.cloudflare.com/cdn-cgi/beacon/expect-ct" Set-Cookie: __cf_bm=z4R_sUFc5GBOz1o.IgCA7CmJ2GNeXVVs_gTmMCP1Ggg-1657098077-0-ATTAqAjEsS5fCXTve22uiWMoBOVNMaZb2ROCDuNVyoc5Kg8yvT8yUIxFGahrGM0sf06tldr6kzHV5mZJbDJmj2jFsu4WS01T/TeC9MPTSh0O; path=/; expires=Wed, 06-Jul-22 09:31:17 GMT; domain=.abt.com; HttpOnly; Secure; SameSite=None Vary: Accept-Encoding Server: cloudflare CF-RAY: 726727a5db9ff186-PIT alt-svc: h3=":443"; ma=86400, h3-29=":443"; ma=86400



Cost/Kilowatt: $0
(cooktop only - not comparable to values for non-range cooktops)





---





All content copyright © 2002 - 2022 by The Owlcroft Company.

This web page is strictly compliant with the W3C (World Wide Web Consortium) Extensible HyperText Markup Language (XHTML) Protocol v1.0 (Transitional) and the W3C Cascading Style Sheets (CSS) Protocol v3 — because we care about interoperability. Click on the logos below to test us!





This page was last modified on Friday, 23 June 2017, at 10:40 pm Pacific Time.

---