Owing to the screen size of your device, you may obtain a better viewing experience by rotating your device a quarter-turn (to get the so-called "panorama" screen view).
The Induction Site
Search this site, or just roll your cursor over the colored boxes below the pictures.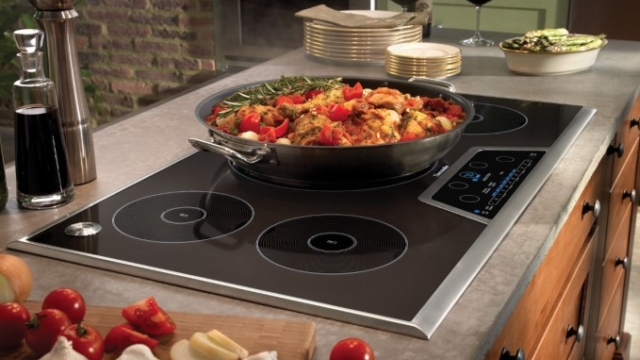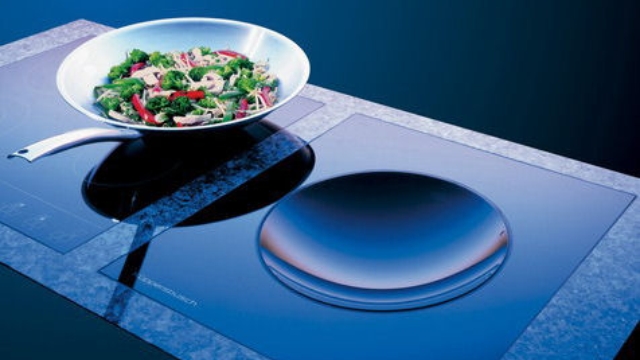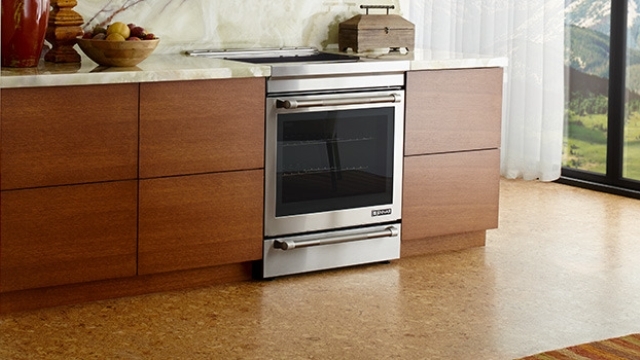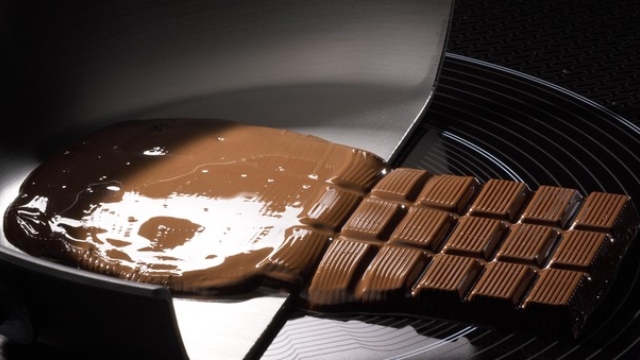 Induction Home Page
"'Begin at the beginning,' the King said, very gravely, 'and go on till you come to the end: then stop.'"
—Lewis Carroll
Let us make a simple, flat statement:
Cooking with an induction cooktop or range is simply the best way to cook, for professionals in a work environment or just for the average household.
As you will soon see, that bold statement can be solidly supported--both by hard facts and the opinions of top professional chefs and of countless serious home chefs.
Induction cooking is not some radical new technology: it has long been widely used around the world, both by professionals and homeowners. But in the last few years the technology has improved so much--and the costs have dropped so much--that a new wave of equipment, for both commercial and residential uses, has become available and is so overwhelmingly superior that it bids fair to almost completely capture the field for new installations worldwide in the next few years.
(A usenet cooking-group poster from England noted a while back that her sister there, who had recently got an induction hob (cooktop) installed, had reported "Her kitchen fitters [contractors] sell as many induction hobs as gas, radient/solid ring, and halogen hobs put together."
With induction-cooking equipment being now better than ever while yet more affordable than ever, it is our hope that this site will help spread sound knowledge of induction, this wonderful way to cook.
This site is your internet headquarters for information on induction cooking. Here, we explain just what induction is and how and why it differs drastically from all other cooking methods, examine in honest detail the advantages and the drawbacks to induction, and give you some pointers at the great mass of information available on the topic, and even look at good-quality induction-ready cookware; but, at the heart of this site, is the single most comprehensive product database available of induction-equipment makers worldwide and--especially important--all of their induction-cooking products, with product statistics and even prices. We include both "commercial" and "household" equipment, so this site should be of use to anyone concerned with cooking, professional or amateur.
Further, we have multiple induction-cooking equipment databases--one each for the different sizes of build-inunits, one for countertop units, plus one for commercial equipment; moreover, we have a database of special features in home-use induction units. With that one, homeowners can quickly see which units fit their exact wants and needs, and see full details on the matching units.
We offer for sale here most of the units, residential and commercial, available in the U.S., and we believe our prices for every unit we offer are as good as you are going to find anywhere, certainly anywhere on the internet. Please at some point take a look at our online induction-cooking equipment store. We want to inform and help you with this site, and letting you buy what you see at the best prices is part of that; but if you choose to buy elsewhere, do still use and enjoy the rest of the site. It was not built as a sales tool: the sales part was added long after its founding.
We also have a page on good Cookware--not just "good for induction use", but really good--it's worthwhile reading for every cook, whether or not you have or are contemplating getting induction. (And, as with induction equipment, we also offer you the opportunity to purchase top-quality induction-ready cookware at attractive prices.)
Seeing as how cooking is the focus, we have also added to our complete cookbooks bookshop listings an especially select list of Good Cookbooks, as recommended not by us, but by the real experts who review cookbooks; this, too, we think worthwhile reading for anyone interested in cooking. (And these, too, come at excellent pricing.)
For your convenience is using this site, every page on it has a full, color-coded Site Directory at the top of the page. The Directory's color-coding is intended to make it easier for you to see what broad subject areas each linked page falls under, and we hope it's more helpful than confusing.
Meanwhile, for those of you first viewing this site, here is a quick summary of the key topics and pages here. This is not by any means a complete list of every page on this site, but it covers the ones a newcomer here will likely be most interested in.
A Basic Education on Induction:
Help on Selecting and Buying:
About Cookware:
Cookbooks, a select list plus a general cookbook-shop:
Moreover, if--after looking through all the resources here--you still have some unanswered questions relating to induction, please feel free to use the email us link available at the top left of every page of this site; we can't promise we'll answer instantly, but we will answer. (Not necessarily instantly because the "we" of this site is, in fact, one person--I am not a big company or organization, just a devotee of induction.)
And remember, this is a dynamic site, changing frequently. Please check back often to see what's been added!
---
All content copyright © 2002 - 2023 by The Owlcroft Company.
This web page is strictly compliant with the W3C (World Wide Web Consortium) Extensible HyperText Markup Language (XHTML) Protocol v1.0 (Transitional) and the W3C Cascading Style Sheets (CSS) Protocol v3 — because we care about interoperability. Click on the logos below to test us!

This page was last modified on Tuesday, 30 May 2017, at 7:55 pm Pacific Time.
---