www.abt.com
Checking if the site connection is secure
Bertazzoni MAS304INSXT
(maker's product page)
similar model: MAS304INMXE
Elements: 4
Boosted: 1
Powers:
· 1.85 kW (boost to 3.0 kW) - front left, 7-inch diameter
· 1.85 kW (boost to 3.0 kW) - back left, 7-inch diameter
· 1.4 kW (boost to 2.2 kW) - front right, 5¾-inch diameter
· 2.3 kW (boost to 3.7 kW) - back right, 8½-inch diameter
Max Power: 7.4 kW

Levels: 9
Controls: knobs
Timer/s: 0
Induction Elements Made By: ?
Features:
· freestanding range with induction top
· finish-color: Stainless Steel
· child-safety lockout setting
· "hold" setting (110°F)
· residual-heat warning
· pan recognition
· spill detection
· overheating detection
Oven:
· convection system w/"turbo convection"
· single oven, 3.4 cubic feet
· telescopic glide shelf, baking tray, 2 wire shelves, grill trivet for tray
· self-cleaning
· bake element, 2.1 kW
· broil element, 3.4 kW
· circular element, 3.3 kW
· 2 internal lights
· quick pre-heat
Size: 29-13/16" wide x 25-3/16" deep (exclusive of knobs and door handle) x 35½" to 37¼" high to surface (adjustable)
Color: black (induction top)
Trim: stainless steel
Voltage: 240
Load: 60 Amperes total
Maker's Warranty: parts & labor: 2 years
Online documents:
· Installation, Use, & Care Manual (PDF file)
· Installation Drawings (PDF file)
· Specifications (PDF file)
Price: not available


Cost/Kilowatt: n/a


(These are all one model but in different trim styles.)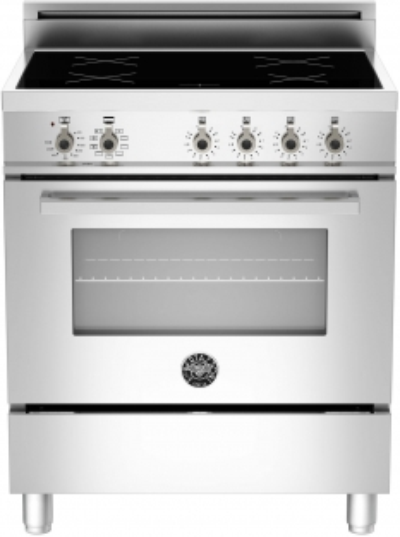 Bertazzoni PRO304INMXE
(maker's product page)
similar model: PRO304INSX
similar model: PRO304INSAR
similar model: PRO304INSBI
similar model: PRO304INSGI
similar model: PRO304INSNE
similar model: PRO304INSRO
similar model: PRO304INSVI
Elements: 4
Boosted: 1
Powers:
· 1.85 kW (boost to 3.0 kW) - front left, 7-inch diameter
· 1.85 kW (boost to 3.0 kW) - back left, 7-inch diameter
· 1.4 kW (boost to 2.2 kW) - front right, 5¾-inch diameter
· 2.3 kW (boost to 3.7 kW) - back right, 8½-inch diameter
Max Power: 7.4 kW

Levels: 9
Controls: knobs
Timer/s: 0
Induction Elements Made By: ?
Features:
· freestanding range with induction top
· finish-color: Stainless Steel
· child-safety lockout setting
· "hold" setting (110°F)
· residual-heat warning
· pan recognition
· spill detection
· overheating detection
Oven:
· convection system w/"turbo convection"
· single oven, 3.4 cubic feet
· telescopic glide shelf, baking tray, 2 wire shelves, grill trivet for tray
· manual-clean oven
· bake element, 2.1 kW
· broil element, 3.4 kW
· circular element, 3.3 kW
· 2 internal lights
· quick pre-heat
Size: 29-13/16" wide x 25-3/16" deep (exclusive of knobs and door handle) x 35½" to 37¼" high to surface (adjustable)
Color: black (induction top)
Trim: stainless steel
Voltage: 240
Load: 60 Amperes total
Maker's Warranty: parts & labor: 2 years
Online documents:
· Installation, Use, & Care Manual (PDF file)
· Installation Drawings (PDF file)
· Specifications (PDF file)
Price: $0.00


Cost/Kilowatt: $0
(cooktop only - not comparable to values for non-range cooktops)


Bertazzoni PRO304INSAR
(maker's product page)
similar model: PRO304INSX
similar model: PRO304INSBI
similar model: PRO304INSGI
similar model: PRO304INSNE
similar model: PRO304INSRO
similar model: PRO304INSVI
Elements: 4
Boosted: 1
Powers:
· 1.85 kW (boost to 3.0 kW) - front left, 7-inch diameter
· 1.85 kW (boost to 3.0 kW) - back left, 7-inch diameter
· 1.4 kW (boost to 2.2 kW) - front right, 5¾-inch diameter
· 2.3 kW (boost to 3.7 kW) - back right, 8½-inch diameter
Max Power: 7.4 kW

Levels: 9
Controls: knobs
Timer/s: 0
Induction Elements Made By: ?
Features:
· freestanding range with induction top
· finish-color: Arancio Orange
· child-safety lockout setting
· "hold" setting (110°F)
· residual-heat warning
· pan recognition
· spill detection
· overheating detection
Oven:
· convection system w/"turbo convection"
· single oven, 3.4 cubic feet
· telescopic glide shelf, baking tray, 2 wire shelves, grill trivet for tray
· self-cleaning
· bake element, 2.1 kW
· broil element, 3.4 kW
· circular element, 3.3 kW
· 2 internal lights
· quick pre-heat
Size: 29-13/16" wide x 25-3/16" deep (exclusive of knobs and door handle) x 35½" to 37¼" high to surface (adjustable)
Color: black (induction top)
Trim: stainless steel
Voltage: 240
Load: 60 Amperes total
Maker's Warranty: parts & labor: 2 years
Online documents:
· Installation, Use, & Care Manual (PDF file)
· Installation Drawings (PDF file)
· Specifications (PDF file)
Price: $0.00


Cost/Kilowatt: $0
(cooktop only - not comparable to values for non-range cooktops)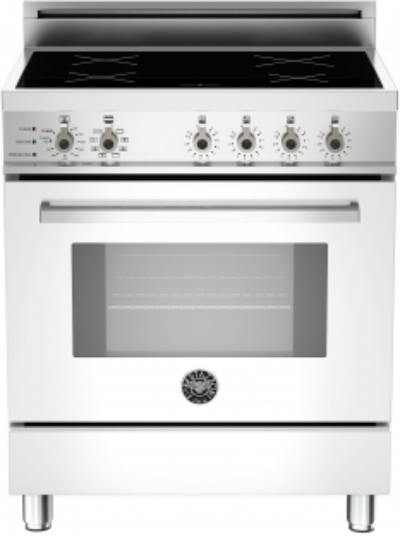 Bertazzoni PRO304INSBI
(maker's product page)
similar model: PRO304INSX
similar model: PRO304INSAR
similar model: PRO304INSGI
similar model: PRO304INSNE
similar model: PRO304INSRO
similar model: PRO304INSVI
Elements: 4
Boosted: 1
Powers:
· 1.85 kW (boost to 3.0 kW) - front left, 7-inch diameter
· 1.85 kW (boost to 3.0 kW) - back left, 7-inch diameter
· 1.4 kW (boost to 2.2 kW) - front right, 5¾-inch diameter
· 2.3 kW (boost to 3.7 kW) - back right, 8½-inch diameter
Max Power: 7.4 kW

Levels: 9
Controls: knobs
Timer/s: 0
Induction Elements Made By: ?
Features:
· freestanding range with induction top
· finish-color: Blanco Pure White
· child-safety lockout setting
· "hold" setting (110°F)
· residual-heat warning
· pan recognition
· spill detection
· overheating detection
Oven:
· convection system w/"turbo convection"
· single oven, 3.4 cubic feet
· telescopic glide shelf, baking tray, 2 wire shelves, grill trivet for tray
· self-cleaning
· bake element, 2.1 kW
· broil element, 3.4 kW
· circular element, 3.3 kW
· 2 internal lights
· quick pre-heat
Size: 29-13/16" wide x 25-3/16" deep (exclusive of knobs and door handle) x 35½" to 37¼" high to surface (adjustable)
Color: black (induction top)
Trim: stainless steel
Voltage: 240
Load: 60 Amperes total
Maker's Warranty: parts & labor: 2 years
Online documents:
· Installation, Use, & Care Manual (PDF file)
· Installation Drawings (PDF file)
· Specifications (PDF file)
Price: $0.00


Cost/Kilowatt: $0
(cooktop only - not comparable to values for non-range cooktops)


Bertazzoni PRO304INSGI
(maker's product page)
similar model: PRO304INSX
similar model: PRO304INSAR
similar model: PRO304INSBI
similar model: PRO304INSNE
similar model: PRO304INSRO
similar model: PRO304INSVI
Elements: 4
Boosted: 1
Powers:
· 1.85 kW (boost to 3.0 kW) - front left, 7-inch diameter
· 1.85 kW (boost to 3.0 kW) - back left, 7-inch diameter
· 1.4 kW (boost to 2.2 kW) - front right, 5¾-inch diameter
· 2.3 kW (boost to 3.7 kW) - back right, 8½-inch diameter
Max Power: 7.4 kW

Levels: 9
Controls: knobs
Timer/s: 0
Induction Elements Made By: ?
Features:
· freestanding range with induction top
· finish-color: Giallo Yellow
· child-safety lockout setting
· "hold" setting (110°F)
· residual-heat warning
· pan recognition
· spill detection
· overheating detection
Oven:
· convection system w/"turbo convection"
· single oven, 3.4 cubic feet
· telescopic glide shelf, baking tray, 2 wire shelves, grill trivet for tray
· self-cleaning
· bake element, 2.1 kW
· broil element, 3.4 kW
· circular element, 3.3 kW
· 2 internal lights
· quick pre-heat
Size: 29-13/16" wide x 25-3/16" deep (exclusive of knobs and door handle) x 35½" to 37¼" high to surface (adjustable)
Color: black (induction top)
Trim: stainless steel
Voltage: 240
Load: 60 Amperes total
Maker's Warranty: parts & labor: 2 years
Online documents:
· Installation, Use, & Care Manual (PDF file)
· Installation Drawings (PDF file)
· Specifications (PDF file)
Price: $0.00


Cost/Kilowatt: $0
(cooktop only - not comparable to values for non-range cooktops)


Bertazzoni PRO304INSNE
(maker's product page)
similar model: PRO304INSX
similar model: PRO304INSAR
similar model: PRO304INSBI
similar model: PRO304INSGI
similar model: PRO304INSRO
similar model: PRO304INSVI
Elements: 4
Boosted: 1
Powers:
· 1.85 kW (boost to 3.0 kW) - front left, 7-inch diameter
· 1.85 kW (boost to 3.0 kW) - back left, 7-inch diameter
· 1.4 kW (boost to 2.2 kW) - front right, 5¾-inch diameter
· 2.3 kW (boost to 3.7 kW) - back right, 8½-inch diameter
Max Power: 7.4 kW

Levels: 9
Controls: knobs
Timer/s: 0
Induction Elements Made By: ?
Features:
· freestanding range with induction top
· finish-color: Nero Black
· child-safety lockout setting
· "hold" setting (110°F)
· residual-heat warning
· pan recognition
· spill detection
· overheating detection
Oven:
· convection system w/"turbo convection"
· single oven, 3.4 cubic feet
· telescopic glide shelf, baking tray, 2 wire shelves, grill trivet for tray
· self-cleaning
· bake element, 2.1 kW
· broil element, 3.4 kW
· circular element, 3.3 kW
· 2 internal lights
· quick pre-heat
Size: 29-13/16" wide x 25-3/16" deep (exclusive of knobs and door handle) x 35½" to 37¼" high to surface (adjustable)
Color: black (induction top)
Trim: stainless steel
Voltage: 240
Load: 60 Amperes total
Maker's Warranty: parts & labor: 2 years
Online documents:
· Installation, Use, & Care Manual (PDF file)
· Installation Drawings (PDF file)
· Specifications (PDF file)
Price: $0.00


Cost/Kilowatt: $0
(cooktop only - not comparable to values for non-range cooktops)


Bertazzoni PRO304INSRO
(maker's product page)
similar model: PRO304INSX
similar model: PRO304INSAR
similar model: PRO304INSBI
similar model: PRO304INSGI
similar model: PRO304INSNE
similar model: PRO304INSVI
Elements: 4
Boosted: 1
Powers:
· 1.85 kW (boost to 3.0 kW) - front left, 7-inch diameter
· 1.85 kW (boost to 3.0 kW) - back left, 7-inch diameter
· 1.4 kW (boost to 2.2 kW) - front right, 5¾-inch diameter
· 2.3 kW (boost to 3.7 kW) - back right, 8½-inch diameter
Max Power: 7.4 kW

Levels: 9
Controls: knobs
Timer/s: 0
Induction Elements Made By: ?
Features:
· freestanding range with induction top
· finish-color: Rosso Red
· child-safety lockout setting
· "hold" setting (110°F)
· residual-heat warning
· pan recognition
· spill detection
· overheating detection
Oven:
· convection system w/"turbo convection"
· single oven, 3.4 cubic feet
· telescopic glide shelf, baking tray, 2 wire shelves, grill trivet for tray
· self-cleaning
· bake element, 2.1 kW
· broil element, 3.4 kW
· circular element, 3.3 kW
· 2 internal lights
· quick pre-heat
Size: 29-13/16" wide x 25-3/16" deep (exclusive of knobs and door handle) x 35½" to 37¼" high to surface (adjustable)
Color: black (induction top)
Trim: stainless steel
Voltage: 240
Load: 60 Amperes total
Maker's Warranty: parts & labor: 2 years
Online documents:
· Installation, Use, & Care Manual (PDF file)
· Installation Drawings (PDF file)
· Specifications (PDF file)
Price: $0.00


Cost/Kilowatt: $0
(cooktop only - not comparable to values for non-range cooktops)


Bertazzoni PRO304INSVI
(maker's product page)
similar model: PRO304INSX
similar model: PRO304INSAR
similar model: PRO304INSBI
similar model: PRO304INSGI
similar model: PRO304INSNE
similar model: PRO304INSRO
Elements: 4
Boosted: 1
Powers:
· 1.85 kW (boost to 3.0 kW) - front left, 7-inch diameter
· 1.85 kW (boost to 3.0 kW) - back left, 7-inch diameter
· 1.4 kW (boost to 2.2 kW) - front right, 5¾-inch diameter
· 2.3 kW (boost to 3.7 kW) - back right, 8½-inch diameter
Max Power: 7.4 kW

Levels: 9
Controls: knobs
Timer/s: 0
Induction Elements Made By: ?
Features:
· freestanding range with induction top
· finish-color: Vino Burgandy
· child-safety lockout setting
· "hold" setting (110°F)
· residual-heat warning
· pan recognition
· spill detection
· overheating detection
Oven:
· convection system w/"turbo convection"
· single oven, 3.4 cubic feet
· telescopic glide shelf, baking tray, 2 wire shelves, grill trivet for tray
· self-cleaning
· bake element, 2.1 kW
· broil element, 3.4 kW
· circular element, 3.3 kW
· 2 internal lights
· quick pre-heat
Size: 29-13/16" wide x 25-3/16" deep (exclusive of knobs and door handle) x 35½" to 37¼" high to surface (adjustable)
Color: black (induction top)
Trim: stainless steel
Voltage: 240
Load: 60 Amperes total
Maker's Warranty: parts & labor: 2 years
Online documents:
· Installation, Use, & Care Manual (PDF file)
· Installation Drawings (PDF file)
· Specifications (PDF file)
Price: $0.00


Cost/Kilowatt: $0
(cooktop only - not comparable to values for non-range cooktops)


Bertazzoni PRO304INSX
(maker's product page)
similar model: PRO304INSAR
similar model: PRO304INSBI
similar model: PRO304INSGI
similar model: PRO304INSNE
similar model: PRO304INSRO
similar model: PRO304INSVI
Elements: 4
Boosted: 1
Powers:
· 1.85 kW (boost to 3.0 kW) - front left, 7-inch diameter
· 1.85 kW (boost to 3.0 kW) - back left, 7-inch diameter
· 1.4 kW (boost to 2.2 kW) - front right, 5¾-inch diameter
· 2.3 kW (boost to 3.7 kW) - back right, 8½-inch diameter
Max Power: 7.4 kW

Levels: 9
Controls: knobs
Timer/s: 0
Induction Elements Made By: ?
Features:
· freestanding range with induction top
· finish-color: Stainless Steel
· child-safety lockout setting
· "hold" setting (110°F)
· residual-heat warning
· pan recognition
· spill detection
· overheating detection
Oven:
· convection system w/"turbo convection"
· single oven, 3.4 cubic feet
· telescopic glide shelf, baking tray, 2 wire shelves, grill trivet for tray
· self-cleaning
· bake element, 2.1 kW
· broil element, 3.4 kW
· circular element, 3.3 kW
· 2 internal lights
· quick pre-heat
Size: 29-13/16" wide x 25-3/16" deep (exclusive of knobs and door handle) x 35½" to 37¼" high to surface (adjustable)
Color: black (induction top)
Trim: stainless steel
Voltage: 240
Load: 60 Amperes total
Maker's Warranty: parts & labor: 2 years
Online documents:
· Installation, Use, & Care Manual (PDF file)
· Installation Drawings (PDF file)
· Specifications (PDF file)
Price: $0.00


Cost/Kilowatt: $0
(cooktop only - not comparable to values for non-range cooktops)


---
All content copyright © 2002 - 2022 by The Owlcroft Company.
This web page is strictly compliant with the W3C (World Wide Web Consortium) Extensible HyperText Markup Language (XHTML) Protocol v1.0 (Transitional) and the W3C Cascading Style Sheets (CSS) Protocol v3 — because we care about interoperability. Click on the logos below to test us!

This page was last modified on Friday, 23 June 2017, at 8:46 pm Pacific Time.
---